FREQUENTLY ASKED QUESTIONS
We're a wholesaler not retailer and have been supplying businesses, event organisers, schools, PTAs, community groups, charities, churches, youth groups, independent traders and fundraisers since 1984!

Our staff are friendly and knowledgeable about our products and we're happy to advise you by phone or email regarding your requirements. To be fair to the businesses we supply, we cannot accept orders from the general public wishing to buy items for their own use.

If you're unsure if we can supply you, please see section 1 below for more details, or feel free to call or email us.


If you are offering us products or services, please contact us only by email at info@andersonswholesale.co.uk. The number below is strictly only for customer use.

If after reading our FAQs, you still have a question, please contact us at info@andersonswholesale.co.uk Emails are usually responded to up until 7pm. To contact us by phone, please call 01842 824505 Monday to Friday between 9am and 5pm and select from one of the options given.





1. Orders, payment and delivery - including placing orders outside the UK, minimum order amount, carriage costs, payments and returns, and important information regarding paying with PayPal.
2. Pricing - including VAT and bulk buy discounts.
3. Promotions and new lines
4. Images, descriptions and age suitability
5. Catalogues, samples and requests for charitable donations


1. ORDERS, PAYMENTS AND DELIVERY
Who do you accept orders from?
We are a wholesale business, not a retailer, and we supply businesses, event organisers, schools, charities, groups and organisations. You do not have to be a business to order from us - if you are part of a community or fundraising group or PTA, or you are raising funds for a charity or good cause, we can accept your order, however, we do not sell to individual members of the public wishing to buy items for their own use.
* If you are a high volume buyer, or looking to buy regularly for multiple outlets, please call us to discuss your requirements. *

Terms and conditions
When placing an order, you acccept our trade to trade terms and condtions . Please see our TERMS AND CONDITIONS page for full details. If you are unsure whether we can supply you, please get in touch by email via our contact page.
Do I need to register with you to place my order or see your prices? And how do I place my order?
We want to make it as easy as possible for you to buy from us, so there is no need to register or log in when you want to view our prices, or place an order. You will however, have the opportunity to register a password so that your contact details can be automatically recalled next time you order.
The goods are put into sections to make it easy for you to shop, and to access these, click on a picture or one of the bars down the left hand side. Or if you prefer, you can use the search bar at the top right of the website where you see the magnifying glass symbol to search for a particular product you require. Try to enter as few words as possible to get a good search result.
To buy, you simply type in the box next to the product how many you wish to purchase and click on the 'buy' button to put them in your basket, it's as simple as that - your order will build in the green column down the right hand side. and you'll even be told how much more you need to spend to qualify for free delivery to a UK mainland address! if you wish to amend your order later on, go to 'click here to edit my order button' to alter and update your order. You'll have the opportunity at the checkout to put any special notes or instructions regarding your delivery, ie shop opening times, or if directions to a hard to find address.
What is your minimum order?
We have no minimum order

Do you offer a dropshipping service?
We don't offer a full dropshipping service. However, if you wish us to send goods under plain cover and without a picking list, we are able to do so. We must have a separate order for each address you wish to send goods to, and postage paid for each address, if applicable. Please put as much detail as possible in the special instructions section.
I've navigated away from the website by accident, or need to check my order with someone else before paying.
Don't worry - as long as you have cookies enabled, if you return to our website using the computer you were building the order on, your order will still be there, as orders stay available and able to be altered and completed for up to 20 days. Under certain circumstances, we may be able to see the order you started building on our system too, and help you complete it through to the payment stage.
How much will it cost for delivery of my order, how long will it take to arrive, and how is it packed?
We will pack your order in a variety of boxes according to its size and weight. To protect the environment, and to keep costs down as much as possible, we use recycled packaging wherever we can. So if you think your box has been used before, it probably has!
We process orders as quickly as possible. For orders placed before 1pm, most are dispatched the same day, but this may not be possible with exceptionally large orders or during very busy periods. This only applies to orders paid by credit card or debit card; we do need to wait for cheque or BACS payments to clear before we can dispatch orders paid for by these methods.

We use a reliable and fast courier service and UK mainland orders usually arrive within two working days after dispatch. We may occasionally send small parcels and parcels to UK islands via Royal Mail. Please allow up to an extra 3 working days for highland and island orders.
Please ensure that you enter the correct postcode or destination country when asked at the checkout, as this will calculate your carriage costs. (See below for international orders). We do not profit on our delivery charges, and in fact, we subsidise them! We are charged a fixed price by our courier service per package or box we send, regardless of its size and value. On orders under £100 inc VAT to mainland UK (excluding the highlands and islands) we partially subsidise this charge down to £4.99 including VAT per 20kg box and on UK orders over £100.00 INC vat we fully subsidise it and offer FREE carriage to most UK mainland addresses.
As there is an extra cost involved in delivering to highland and island areas, we need to pass this on to our customers and regret we therefore cannot offer free delivery to these areas. Approximate costs per standard 20kg box to highland and island addresses are shown in blue below.
Isle of Wight £15.00 Scottish highlands and islands £15.00 Northern Ireland £20.00
Isle of Man £25.00 Channel Islands £10.00
Do you accept international orders and do overseas customers have to pay VAT ?
We welcome orders form customers outside the UK. Please see our OVERSEAS CUSTOMERS page for help and advice about ordering if you live outside the UK, and about VAT on overseas orders.

What can I do if I can't find a particular item, you are out of stock of an item I need, or I am being told I can only order a certain number of an item?
Our automated stock control system will only allow orders to be placed for the amount of an item we actually have in stock so if for example, you see a message saying you can only order 33 of an item, we are not limiying the number you can buy, this is the number left in stock. We have stock deliveries daily, so please do contact us if we do not have enough of an item you require.

It may be we have just received replenishment stock and have not yet updated our stock system and can offer the number of items you wish or we may be due to receive items very soon that you wish to purchase.
Can I add to an order once I've placed it?
Orders are processed and sent out as quickly as possible once they are received. If you wish to add to your order please contact us as soon as you can to let us know - preferably by phone to ensure the message is received and acted upon swiftly - before placing the subsequent order.
If your first order hasn't already left us, you can then place a further order and we can combine the 2 orders, refunding any excess carriage costs paid. However, if the order has already left us then unfortunately, you will need to pay for carriage on any further orders you place.
We prefer all orders to be placed via the website as this both reserves the stock for you and processes your payment automatically. Please add in the special instructions section on your subsequent order - even if you have already spoken to us by phone - that you wish to combine it with another already placed, and give us that order number too. If you experience any difficulties and wish to speak with us we can usually sort arrangements out for you by phone, and take a manual card payment - we're very friendly!
I'm not very good with computers - can I come to the warehouse to shop instead, or place my order by phone?
We are not a cash and carry, and our insurance does not allow visitors inside our busy warehouse. We trade solely online. Shopping with us is simple and secure and we don't share your details with anyone.
Orders ideally need to be placed through the website, as this is the only way goods can immediately be reserved for you, and the website is very easy to use - honestly! However, if you are unused to shopping online, please give us a call and we can talk you through how to place your order step by step, or take the order from you - however, we would still need to place it through the website ourselves in exactly the same way you would, in order to check available quantities and reserve stock, so it would take just as long, if not longer this way.
Please note that if you ask us to accept a verbal order, even if your acceptance is not specifically stated, you are deemed to have read and to therefore accept our Terms and Conditions.
What type of payments do you accept and is your server secure?
We accept credit and debit cards, PayPal, BACS and cheque payments. All card payment are handled by a 128 bit secure encrypted server and for enhanced customer security, we use the 3D secure payment processing system Sagepay, the premier online server. We do not see or store card details.
When paying by debit or credit card, initially the amount of your order is only pre-authorised by your bank. If, as occasionally happens, an item is out of stock and we need to adjust your invoice, then we only actually release the correct amount of funds. So though if checking your online statement you may see one amount initially, the amount actually charged to your card and shown on your invoice may change, as when we dispatch your goods and send you the invoice at the same time by email, the final amount actually charged is adjusted down to reflect any goods not charged for.
We cannot take more than the amount pre-authorised on your card, we can only adjust your final amount down, so if you wish to add to your initial order we will add the extra goods on and arrange to take another payment.
We can only dispatch goods after a payment is made, so if selecting to pay by cheque or BACS please send the payment as soon as possible, and then allow 3-5 working days for your payment to clear before we can dispatch your goods. if we don't receive a payment within 14 days of you placing your order we will cancel it, as you may be tying up stock other people may wish to order.
Do orders need to be signed for? Can I select a different delivery address and choose my time of delivery?
Once you have completed your order, you will be asked for your full contact details and phone numbers, which both we and the courier company need in case we need to make contact with you. It is important we have a number you can be contacted on during the day.
You will then be taken to the method of payment screen, and after that, the delivery address screen. Here you may enter a different delivery address. Please note we cannot deliver to empty or temporary addresses, and we may undertake further security checks if a different delivery address is given.
We cannot offer timed deliveries - our couriers may deliver your parcel any time between 8am and 5pm, so please ensure someone is available to accept your delivery all day.
All orders must be signed for. If no-one is in when a delivery is attempted, the courier will leave a card when possible and ask you to contact your local depot to re-arrange delivery. If no contact is made after 3 days, the parcel may be returned to us and if you wish another delivery to be arranged, a further charge may be made.

Please note if an incorrect delivery address is given to us on an order, once the goods have left us, there may be extra delivery charges incurred by you, if we have need to send your goods from one delivery depot to another in a different postcode area. This is because the courier company reserve the right to charge for taking goods to another depot. Asking for goods to be sent to a different address to that on your order will also result in a delay in your goods getting to you. We can only take instructions from the person who placed the order, when an address change is needed.

My order is later arriving than I expected, what should I do?
Once dispatched, most orders sent to UK addresses arrive the next day, though during very busy seasonal times, or after a bank holiday, they can take longer.
We can't offer timed deliveries, and we find that many people who contact us saying their goods haven't arrived had 'just popped out,' maybe to the shops, or to take the children to school, when the courier attempted to deliver their parcel! Or the parcel may have been signed for and left with a family member, colleague or work receptionist.
We can track a delivery from the time it leaves us and tell you who signed for it and at what time.
So before calling us, please check whether you've received a card through your door asking you to rearrange a delivery time with your local depot, or if a friend or colleague has accepted your delivery on your behalf.
If a delivery is rearranged and you fail to be in a second time, or you haven't made contact with the depot within 3 days of the card being left, the goods may be returned to us, and there will be a further delivery charge to send them to you again. If instead, we offer to refund you, we cannot refund any carriage charges incurred, including those we are charged for having the goods returned to us.
Can I return an item ?
Unless an item is faulty, we do not usually accept returns, however, at our own discretion, under certains circumstances we may accept items for return. Please see our TERMS AND CONDITIONS page regarding this, paying particular attention to the fact we must authorise the return of any goods.
2. PRICING
Why are your prices shown excluding VAT?
Andersons Wholesale is a wholesale business not a retail organisation. Companies showing prices which include VAT are usually selling to the general public rather than trade. We do not sell to indivdual members of the public. Items purchased and carriage costs are subject to the addition of VAT at the current rate of 20%.

if you prefer to see VAT inclusive prices, you can do so by using the 'show VAT inclusive prices' button at the top of each page.

What do the prices in the box under the product mean?
We list the price for a single item in the quantity in which it is sold. This may be a box containing 96 party bag toys, for example, or a single item like a puzzle or book. If you are able to purchase larger quantities of an item, you can take advantage of the price breaks available to you. These are shown in the boxes beneath each item. Quite simply - the more of a particular item you order, the cheaper it becomes! Our staff can process your order more efficiently and this cuts down the time spent on your order considerably.
The example shown below - a bag of jazzy blowouts, item code X30025 - is sold as many of our items are, as a single bag, pack or box contaning a number of items - in this case 144 blowouts costing £9.89 ex VAT for one bag.
If you buy three bags, each bag reduces to £9.58 ex VAT each and if you buy 6 or 12, they reduce even further, coming down to £8.22 ex VAT per bag when you buy 12. So the more you buy, the more you save, it's simple!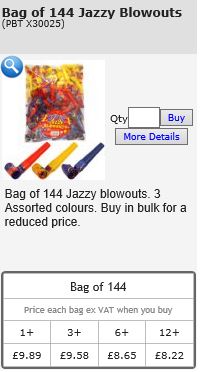 3. PROMOTIONS AND NEW LINES
How often do you have new stock?
We have new stock daily, and all our new lines are automatically listed in our New Arrivals section as well as in their 'parent' section. They stay in the New Arrivals section for 14 days.
Do you do promotions and special offers?
We do have offers on all sorts of products, and these can be found by clicking on the red Special Offers star in the top left hand corner of the website. Each offer item is also listed in its parent category. We also have short term promotions on various ranges or categories of items, which typically last for 5 to 10 days.

How can I make sure I know about your offers and your new products as soon as they arrive?
We send out an email roughly every 2 weeks to all our customers to let them know about new lines, offers and promotions and seasonal trends.
Please register to receive updates and offers from us, so you know about new items as soon as they come in and ways you can save money! Do feel free to forward the emails on to colleagues or friends you think would want to see them. We don't share any details given to us with anyone else. If you feel you don't want to receive the emails ( though we're not sure why you wouldn't want to save money!) then just drop us a line or use the opt out button, and we'll take your name off the list.

4. IMAGES, ITEM DESCRIPTIONS AND PRODUCT SUITABILITY
Can I use images from your website?
Only customers purchasing from us are permitted to copy and/or use any images from our website. We allow you to use images only of the items you have purchased from us and you must obtain emailed permission from us before using any of our images.

I've spotted an error in an image or description....
Then please do get in touch! We try to describe and show our products as accurately as possible, but very occasionally, errors occur. Please help us to lessen these occurrences by telling us if you do spot a mistake.

Do your items carry CE labels?
Where appropriate, our items contain the required CE labelling.
How can I tell the age suitability of an item?
Unless specified, all toys are unsuitable for chidren under 3 years of age. All soft toys by law must now be suitable from birth, however attached labels and tags and ribbons should be removed before giving soft toys to children under 3 years of age.
CATALOGUES, SAMPLES AND CHARITABLE DONATIONS
Can you send me a brochure?
We are an online wholesaler. As our stock is added to daily, a brochure would be always out of date, so we don't produce expensive brochures, catalogues or price lists. Our website is our brochure! It's laid out in easy to navigate sections and is as easy to browse as a catalogue. If you need to, please feel free to print off any pages you wish to show to friends or colleagues if they can't look at the website with you.

The savings we make not producing brochures for other items mean we are able to supply goods at the most competitive prices possible! This enables our customers to make the most amount of profit for their business or good cause.
Can you send me a sample?
We are able to send greeting cards samples but as many of our toys and other items are packed in display boxes we may be unable to supply samples of these. If you require goods for inspection we are happy to supply them at the normal price - please place your order via our website. If they are not suitable you can return them at your own cost for a refund of the purchase price, as long as they are returned unused and packaged as supplied.
Can you donate an item or money to help our fundraising?
We are asked several times daily to donate goods to help charities and other good causes. Much as we'd like to help, we're sure you'll understand as a family owned business, it's just impossible to do this and we are sorry we can't respond favourably to donation requests.

Instead, we keep our prices as low as we possibly can so that every customer can make as much profit as possible for their cause or business.
The cost of donating free items and the associated staff time and postage costs would only serve to vastly increase the cost of items we sell on our website - so this wouldn't help anyone!
As a family and business, we support our local hospice, St Nicholas Hospice Care, where both close friends and family have received care, and support other local causes too.
We hope we've answered any questions you may have, but if you still need help, please get in touch!